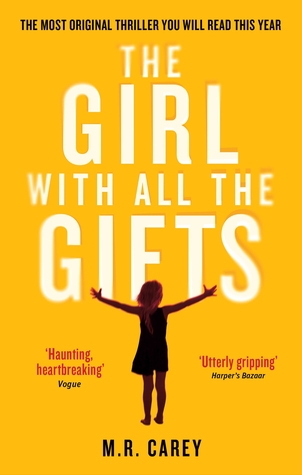 I recently finished reading
The Girl with All the Gifts
by M.R. Carey and wondered what it would be like to enter the world of the characters. The book is about a ten year-old girl, Melanie, who is a subject of scientific research due to her strength against a disease outbreak. The author takes the idea of a zombie-apocalypse world and turns it into something much more complicated with meaning and emotion.
Warning: this post contains spoilers for those who have yet to read The Girl with All the Gifts.
Let's take Melanie. She's a ten year-old girl whose only memories involve the base and the people who work/live there. Most of us would probably be terrified if an army group pointed guns at us each morning in order to tie us to a chair. Obviously she understands that she is a potential danger to these people due to her hungry need to devour human flesh but she is still an extremely audacious girl. I can guarantee that if I were in her position I would not feel able to tease Sergeant Parks in a way alike to her.
One character I absolutely despised was Doctor Caldwell. My hatred increased for her when she planned to capture Melanie in Rosie and abandon the rest of the group. If I was part of the group I would be reluctant to leave Caldwell alone with Rosie - obviously as a reader I have a privileged position here whereas the characters were never in a position to believe she would plan to turn on them.
I thought Miss Justineau was an ambivalent character. Sometimes I liked her and sometimes I was wary of her. From Melanie's descriptions of her class teachers I think, like her, I would be a fan of Miss Justineau lessons purely because of the imagination factor that comes from the telling of myths and stories. Mis Justineau definitely stood out for me when she defended the need to keep Melanie alive to Caldwell who wanted to go ahead with her experiments.
For me, Sergeant Parks was potentially the character who went through the most development. At the beginning of the novel I disliked his character and the one thing that stood out to me was how much he swore around this group of child experiments. Yes, they may not be considered human but I still felt like this did not excuse the fact that they were children. His relationship with Melanie was one of my favourite pairings in the novel because of the way he started to see her almost as a daughter towards the end of the novel. For me, this is why I began to like his character.
_____________________________________________________________________________________________________
Thank you for reading.
Let me know if you've read The Girl with All the Gifts and if you enjoyed reading it.
Bye, for now!