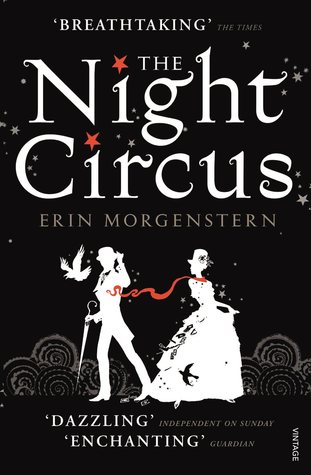 Author:
Erin Morgenstern
Rating:
5/5
THE CIRCUS ARRIVES
WITHOUT WARNING.
NO ANNOUNCEMENTS
PRECEDE IT...
IT IS SIMPLY THERE, WHEN
YESTERDAY IT WAS NOT.
Now that's an enigmatic synopsis if ever I read one! The Night Circus takes place over more than two decades around the beginning of the 20th century. Expect some Gothic codes as we are in the heart of Victorian England. Note: pay attention to those dates at the top of each chapter otherwise you will be lost time-wise in this world.
The main concept is that there is a game. A game that started when six year old Celia Bowen was given back to her father, Prospero the Enchanter (and yes, that Shakespeare reference is intended and Prospero does try to call her Miranda). The opposing contender is called upon by a mysterious man in a grey suit who presents Marco. The game itself is unknown to both the players and us as readers throughout most of the novel. We know, and they know, that there is a game. But neither us know what that game is or when it will happen.
The circus itself is there venue for the game, although that is not its only function; it is a fully running circus full of illusionists, contortionists and alike. The circus is the central point for all the individual vines of plot to congregate and join together. This was something I adored about the book because there was always something happening even if it was the subtlest thing!
If you're looking for a plot-driven and fast-paced read then this may not be quite for you.
The Night Circus
requires dedication to read as it's not one of those books you can just read a chapter of and stop. You really need to sit down for a couple of hours and read a hundred or so pages to appreciate what is going on. Each and every detail is described to pull you into the world (you even get to taste the food, it's that great).
The book starts off in second person but is, for the most part, written in third person. All I can add is that it is beautifully written! Words cannot describe how spectacular the world inside this book is. If you feel even the slightest bit pulled into this world already, for the love of God just PICK IT UP!!
So rating wise,
The Night Circus
has my full five out of five approval. In case you can't already tell, I
loved
it. This is a truly enchanting read by Erin Morgenstern.
Thank you so much for reading.
Let me know your thoughts on The Night Circus, and if you have any book recommendations.
I look forward to reading your lovely comments. :)